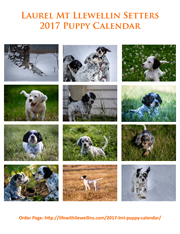 Ray and Miley

Chuck and Blue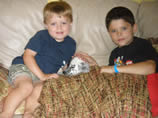 Gibson and his new family

Robert and Weston

Kelly on her way to her new home in Michigan.

Hatch and his new family!

Kelly with her new dad.

Shadow and his new family.
Reserving a Laurel Mt. Llewellin Puppy
Reservations:
We sell to hunting/working (by "working" we mean that the dog will be worked on birds, i.e., trialing, falconry, etc.) only homes. We will want to hear about your plans to make sure a pup from us has every opportunity to hunt. We also will like to hear that you know how to care for and nurture a puppy. If you have children, we will like to hear that you will make every effort to teach your children the proper discipline of a young puppy and that this will be kept consistent with your own. There is nothing more confusing to a puppy (or young children for that matter) than inconsistent discipline and poor communication.
We currently are only accepting reservations for puppies via our new, VIP Puppy Program. Advanced payment in full of $1,500 is required. This covers the cost of a future puppy of which we will work with you in chosing. We will only accept a certain number of reservations per year and you will not see this message if we are not accepting them; there will be a no-reservations available message instead. Your advance payment and reservation includes the puppy (not flight fees or any fees associated with travel), and access to a VIP Members area (currently in development and will go live approximately December 1st).
Costs & Terms:
Reservations are $1,500.00. They are not refundable.
Our Breeding Program:
We only breed our proven gun dogs and like to like, produces an "even" litter where all pups will be very much the same in bird dog potential. We strive to produce this in all of our litters and picking order should not be of the highest importance. Pick a reputable breeder and then pick your litter. If you've done your homework and picked from a proven line of excellent, healthy dogs that match your hunting- and life-style and be sure you have communicated these things to your breeder, and you have taken the steps to better ensure that you will get an excellent pup. Frankly, most folks do not know how to pick and their decision is usually based too much on the dam and sire, emotion, or they read somewhere about picking a pup based on this test or that test. Inheritable bird dog traits, intelligence, and health from a reputable breeder—will they be there for you 5 or 10 years from now?—should be the goal.
Tell us what you are looking for in your Llewellin Setter pup and we will help make the best match. Look, we want you to be happy, but it is very important to us that each pup goes to the best situation for it. We sell to hunting families only because we believe the Llewellin Setter is born to do so and we want to maintain them as the quintessential gun dog. Following conversations with you and knowing what you want in your pup, we will make recommendations. And, if we feel we do not have a pup that will suit your situation, we can refer you to another breeding, breeder, or even another breed. Our pups are not for everyone. We strive to produce a Llewellin that "puts the most birds in front of the gun," and does it with class and style, with drive, stamina, and go-attitude that will also be a loyal companion in the home. You must understand the nature of the Llewellin and what it is intended to be and be prepared to provide for his needs.
Going Home
Flying Your Puppy
We have excellent results flying puppies with our puppy program. It is a huge part of the airline business and they take very good care of the puppies. We would never fly pups otherwise!
Puppies can fly after 8 weeks of age.
Note: There are certain times of the year that flying a pup may not possible due to temperatures (too warm or too cold—above 85°F or below 43°F). We use very early morning flights in the Summer to catch the coolest temperatures of the day and can usually work it out just fine. Sometimes we may have to wait a few days until temperatures are okay. In the winter, we fly pups on the later afternoon flights to catch the warmest temperatures of the day. We acclimate the pups and they are not stressed in any way.
We take them for rides in the truck, carry them around in the crate, they sleep in the crate, etc., so when the time to fly comes, it is not new or stressful.
We prefer United Airlines to fly puppies. Our second choice is Delta Airlines. You will be notified of the projected flight date for your puppy.
Note: Total fees for flying your puppy will include the flight cost + health certificate fee + crate (you will order the crate yourself as you will see below).
Crates: Over the years, we have found the best thing is for you to purchase a crate and have it shipped to us. We have some very good resources for airline-approved crates that we will refer you to. You will be responsible for ordering the crate and having it shipped directly to us. A #200 crate is usually perfect for an 8-week old puppy. It is not too big (and some flights restrict the size of crates) and still gives some room for growth. We will provide you with all of the details in plenty of time to order your pup's crate for flying. Please note when ordering a shipping crate, it must be airline approved for shipping. It must have bolt-type latches (no plastic latches are permitted). It must have one metal front-facing door (the new type crates with two doors--one on the side--are not permitted). It also must include both a water and food dish that attaches to the inside of the door). If the crate does not come with the dishes included, please be sure to order cups/dishes that attach to the door and have them shipped to us with your crate. The airlines will not accept the pup for shipping without them. We do not have these on hand--please be certain to order them and ship them to us! I am unable to find them at pet stores, just like most of the time I am unable to find the correct #200 crate within a reasonable cost at pet shops. Many customers also like to include a crate pad, blanket, or absorbent mat as well as a leash and collar.
Source for Your Shipping Crate and Food and Water Dishes
As soon as you have chosen your pup (not before, please, as storage space is a problem), it is wise to immediately order the shipping crate. At this time, we prefer that you order a crate and have it shipped directly to us. Please see our Resources page for the most up-to-date links and suggested items for your pup and for flying your pup.
From Amazon (seems to be the fastest shipping times):
Amazon has the crates available.Click here. PLEASE NOTE THE SIZE: You want to order a #200 size crate--the measurements are: 28" L x 20.5" W x 21.5" H. Here is another crate, the Petmate Ultra Vari Kennel (please be sure to order the correct size as previously noted).
ThisPetmate Airline Travel Kit includes 2 dishes (as is required), the live animal sticker, and a cardboard pad (note: it is just cardboard, but is fine especially for summer flights!).
Or this Pet Airline Kit which includes the 2 separate dishes required by the airlines, live animal stickers, and an absorbent pad (although it's fairly lame and the puppies eat it. I don't usually use it and only if you order the Midwest Quiet time pad for your pup, then I can put it under).
Food/Water dish alternatives (cost more): I LOVE theseMarchioro Lanca Universal Bowls (note: you must include 2 of them-1 for food and 1 for water). They are fantastic and you will get much more use out of these vs. the tiny ones included in the travel kit above. Of course, this is just a suggestion. They cost more, too.
And theMidwest Quiet Time Pet Bed is a nice pad that fits the above crate. This is not necessary. Folks always ask about a pad. This is a decent one that is washable and will last. There are nicer/better, but this one is a good choice for as long as your pup will get to use it.
Please note that you do not need to order bolts--if you order the above linked crates, they come with the correct bolts.
Please DO NOT purchase this kit--it does NOT include 2 cups (it only includes one divided cup which is not what is allowed (the airlines require 2 separate cups). You would have to order 2 of these to have the required cups and I do not use anything else in this kit (the bolts are not needed, the name tag is not allowed, the zip ties are too small and flimsy, and I do not like the "absorbent pad" because the pups shred it unless I can put it under the nice and usefulMidwest cushy crate pad.
Driving to Pick Up Your Puppy
All litters as of June 2016 are raised at our Stephenson, Michigan (in the Upper Peninsula) location.
At certain times, we can make arrangements to meet you somewhere with your pup. This will be at the buyer's expense and we would ask only for travel expenses.
Sometimes I personally feel it is much easier and much healthier for a pup to fly to it's destination rather than go through a very long road trip, stopping at disease-ridden rest stops. I recommend a 6-hour drive as the cut-off point. But, if you are able to make a longer drive and prefer this, so be it--it's up to you, of course. Many people say they prefer to drive to "bond" with a pup, but I don't understand how bonding is going on when a pup is in a crate in the back seat for a 10-hour drive! I think it's cruel. Any pup I get myself over a 6-hour drive is flown and is much easier on the pup.
Make An Advance Reservation
Be sure to view the conditions of our Guarantee before making a deposit!
If you have read and agree with all of our policies and you need to make a deposit, pay for a pup or started dog, or air shipping, you can do so with your credit card by clicking on the PayPal button below. It is via a PayPal secure payment system (you do not need a PayPal account to pay with a credit card).
Alternatively, you can mail a check or money order.
To reserve a future puppy: $1,500.
There are two reservation options: 1. Paid in Full ($1,500) or 2. Two payments of $750 (one now and one when an available puppy is 4-6 weeks old). Please note: Deposits are non-refundable. We promise you a future, healthy puppy.
Advance purchase of a puppy places you on a list for a puppy. When we have puppies available, we contact our list in the order of deposits received. Each will have the opportunity to choose an 8-9 week old puppy or pass until the next available litter/puppy.
Please remember our deposits are not refundalbe--we promise to provide you with a future, healthy puppy as soon as we have a puppy that suits you-- not a refund.