Laurel Mt. Llewellin Setter Puppies
Laurel Mt. Llewellin Setters are DNA-certified and registered with the Field Dog Stud Book.
We sell to hunting/falconry/trial families only. No "pet-only" homes, While the Llewellin Setter is a most-excellent companion and family dog, they are hunting dogs first.
When purchasing a pup from us, you will receive a guaranteed healthy puppy with excellent bird dog potential. We only breed dogs if they are of excellent health and have proven themselves as an excellent hunter in the field. We own and breed only from the best-producing Llewellin Setter lines—lines that consistently have been proven to produce excellent bird dogs. We have dedicated the rest of our lives to the preservation of this amazing breed of upland bird dog of which we feel no other compares.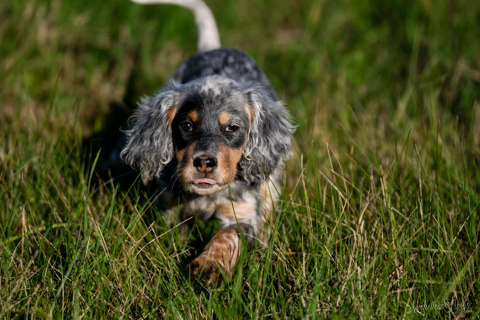 A Beautiful Laurel Mountain Llewellin Setter Puppy
Laurel Mt. Llewellin puppies start at $1,500 (cash price), male or female, any color, unless otherwise noted. Fees for flying puppies are additional.
Currently the only way to obtain an LML Puppy is by advance purchase (paid in full or two payments). Those clients that have advance purchased will then have first choice when we have an 8-week old puppy available that can leave at 10- 12 weeks old, and then we will make available to the public any pups after that.
For those with deposits/advanced reservations: When we have a litter around 4 weeks old, we will begin going thru our list. You will have the option to keep your deposit with said litter and later choose a pup from the litter, or "roll" your deposit to the next litter. So, deposits are now treated on the whole of our program, instead of picks per litter. This seems the most fair way to handle deposits so in case a litter is not produced or there are not enough pups from a particular litter, those people used to fall behind in order going to the next available litter. This will be more fair. We'll see how it goes this year.
After you make your deposit/purchase, we will contact you with a questionnaire as to the details about the puppy you are looking for and we'll make recommendations and get you on the litter list for the pup you desire.
Please note: Deposits are non-refundable. We promise you a future, healthy puppy as soon as one is available!
Reservations
Reserve Your Laurel Mt Llewellin Setter Puppy today: Payment in full now ($1,500). Please note the dam (if known/decided) and sex of puppy you desire on the note area when paying with a credit card via PayPal.
Planned Breedings:
Please note: Scott is now handling all communications concerning puppies, reservations, etc., as I am still stranded in PA (for a year now) without a vehicle, with no income what-so-ever, and family health issues and do not know when I will be able to get back to the UP. I am sorry--I miss my dogs and puppies and all of our customers. I am sorry what has happened. I have absolutely no contact with Scott for months, he will not provide me with any information or updates, and I have no way of knowing what is going on. He is handling everything. Contact Scott via email here. Or call him: 724-689-6479.
Love,
Michelle Lazur
Reserve Your Laurel Mt Llewellin Setter Puppy today: Payment in full now ($1,500). Please note the dam (if known/decided) and sex of puppy you desire on the note area when paying with credit card via PayPal.
Llewellin Setters for Adoption
Contact us about the possibility of adopting a Llewellin Setter puppy or older dog. Occasionally we know of something available that might be an older, retired dog or a pup with special needs (for example, deafness). Let us know what you might be looking for/what you can handle, etc. Any issues are not life-threatening, dogs are in excellent health.