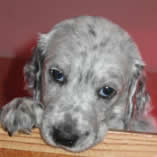 Blue

Steele


Nitro (Shay x Brier)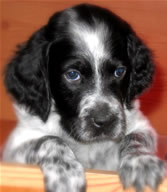 Boone (Shay x Luke)

Lucy (Shay x Brier)
The Laurel Mt. Guarantee
When purchasing a pup from us, you will receive a guaranteed healthy puppy with excellent bird dog potential. We only breed dogs if they are of excellent health and have proven themselves excellent in the field. We own and breed only from the best-producing Llewellin Setter lines—lines that consistently have been proven to produce excellent bird dogs. We have dedicated our lives to the preservation of the Llewellin Setter as a world-class gun dog by selecting only those from the best-producing families and by selling our puppies to hunting-only families.
Our Llewellins are DNA-Certified and registered with the Field Dog Stud Book.
We guarantee our pups against hereditary disease (hip dysplasia) for a period of 26 months. We know our dogs and the stock from which they came and will not breed a dog or lines with any known hereditary diseases. There are plenty of good dogs out there--but we will only breed the ones that perform best in the field and are of excellent health. We now have several generations of dogs and we know exactly what our breedings will produce.
In the event a licensed veterinarian confirms a pup has a serious or life-threatening hereditary disease and returned to us, it will be replaced with another puppy acceptable to the buyer. Our liability is limited to and shall in no event exceed the purchase price of the dog involved.
Please note: We do not pay or reimburse any veterinarian bills associated with any pup or dog after they leave us. Our pups are examined by a veterinarian at six weeks of age and before they are ever released for picking. We are clean and obsessed with providing the healthiest environment for our puppies to grow up in. Our pups are dewormed, kept clean, and usually inside our home until they leave. We also provide excellent nutrition to all our dogs and puppies. We will insist on knowing what you are feeding your pup. We encourage you to speak with us about any problems you think there may be. After all these dogs, all these years, I (usually) can advise on how to treat or handle most anything minor that might crop up and in non-evasive and natural ways. I do not believe many of the medications and drugs that are being used today. I have successfully treated most minor issues with gentle means myself for many years. Speak with me first—I welcome, encourage, and even beg you to do this first. I know these dogs and I know what works. If I don't, I will tell you so. I do not profess to be a veterinarian, I am simply an experienced keeper of Llewellin Setters.
We breed our personal hunting dogs that have been proven in the field. We selected our dogs by conducting the most research possible and choosing from those of the best gene pool, wherein the most excellent dogs were being produced. Not from a gene pool where maybe one dog became famous because of this or that. We breed from those possessing the best-producing genes. The ones that possess the intelligence, the nose, conformation, health, etc., and will, with a very high certainty, pass this on to their pups. All our puppies display the natural and instinctive traits necessary to become outstanding gun dogs and family companions.
Just give pup the opportunities to learn. Have patience and understanding of the Llewellin and give it opportunities and it will be all that it was bred and born to be. We offer to help and assist in every way possible with the up-bringing of the pup. We will always be here (God-willing) and want to be involved in every way for the life of the dog.
This is also why you will be required to sign a statement in our Bill of Sale that you will keep the pup in clean, dry, appropriate kenneling (or preferably inside home), meet their nutritional requirements according to our standards--not yours, and give the pup every opportunity to meet his potential as a gun dog. We ask you to keep us updated regularly with photos and progress reports for the life of the dog. Failure to do so voids our guarantee. This is of the utmost importance to us. We feel we are a family and want to know every single pup that we produce forever. It is of the utmost importance to the breed that we know how every single pup that leaves here turns out.
We are also sticklers on knowing how you will keep your pup and what you plan on feeding it. Yes, we will ask you. And, we can help make suggestions. We encourage you to research this extensively. Research the ingredients and why they are either good or bad for your dog. Don't feed any food because someone—vet, hunting buddy, or the guy at the dog food store—tells you. You are responsible for your dog's health, no one else. Educate yourself and feed your dog the best you can afford (and, you will actually find some of the better foods cost much less than the ones you've been brain-washed into thinking are good, when in actuality they are nothing more than garbage and corn-based fillers). I challenge you to think of 2 or 3 big-name dog foods that you think are very good. Now, look them up and see where they rank and why.
We are convinced good nutrition is absolutely essential for the future health of the pup and the latest studies link nutrition, environmental conditions, and exercise to playing a huge part in a dog developing hip dysplasia. Studies show the amount of calories (and from what source) a pup consumes and when in it's life those calories are consumed has a huge impact on many things from skin, allergies, brain development, behavior, and of course physical development--including hip dysplasia. Obesity plays a huge role in HD. Feeding free-choice plays a role (not a good one), and feeding a diet that has too much or too little protein, calcium, and other minerals and even over exercise at a young age plays a role. So, not only do genetics play a role, but so do proper nutrition and exercise at critical ages and especially those from 3–10 months. Extensive studies have also shown a dog can be a carrier of HD, never showing symptoms or developing the disease, but can pass it on to offspring in later generations. Most dogs in good health with proper nutrition and exercise never develop it. This is why it does show up from time to time even though the parents and even grandparents had excellent hip tests seeming to prove otherwise. It still does not guarantee it cannot happen. There may be nothing we can ever do about that although there is talk of someday being able to test for a genetic marker that would reveal the carriers. In the meantime, what we can do is to offer the very best nutrition possible for the bitch in whelp, during nursing, and beyond and from the best meat, vegetable, fruit, and non-pesticidal sources that have the correct protein-fat-carbohydrate ratios (We have found protein levels should be at or below 27% (and closer to 24% is optimal) for a growing Llewellin Setter puppy, not higher).
We Provide
Once the pups are six weeks of age and every pup has had a complete physical, we will make the pups that are available to those with reservations and they may begin picking in order of deposits received. Note: We may make a decision to take our breeder's pick of one or more pups of a litter at any time. We will remove that pup or pups from the site and from the pups available for choosing.
Please Note: We reserve the right to not sell any puppy at any time before the actual sale is made. In the event there would not end up being a puppy available for you, any/all monies would be transferred or refunded and we will help in all ways to find you a suitable replacement. Just know that we would only do this if we feel the pup would not suit you or your situation. We want the best situation for every pup.
We will make suggestions as to a suitable litter for you after discussing your intentions in obtaining a Llewellin Setter from us. We want to ensure the pup is going to the situation that will suit it—and you—best. There is no sense in you getting a pup you will not be happy with, as all will be unhappy, the pup will not be treated well, etc. We will help you with this. Some are looking for a never-stop, bird-obsessed pup and can handle a hard-headed, bird-finding machine. We all want intelligence, nose, and the best upland bird dog there is. Let us know your situation, what you expect, what you have liked or not liked in previous dogs, etc., and we can help by suggesting a breeding of ours, or another breeder, or even another breed that will suit your needs.
Also, we constantly hear from those thinking they want a female or a male because of one behavior or another they either do or do not like. These assumptions are usually not at all true in this breed. Discuss your expectations and needs with us, we can help you make a decision based on our experience with the Llewellin, not rumors based on other breeds.
It is confusing for a pup to come back here and then, go to another new home. Sometimes it is better for all if that happens, and generally pups are very adaptable (the younger, the better), but we really try to make sure you know what you want and try to match you with a pup that we think will suit your expectations. And, if we think we can not provide that, we will tell you so.
When you obtain a pup at eight weeks of age, they will have had their dew claws removed, all necessary inoculations and will have been veterinarian checked to be of sound health. When you pick up or we ship the pup, you will receive:
The Bill of Sale (including our guarantee and your promise to update us with frequent photos and reports for the life of the dog)
All papers necessary to register your pup via the FDSB, as well as permission to use "Laurel Mt"
in the pup's registered name, if you choose to do so.
Health Record (record of shots, wormings, etc.)
Sample of puppy food and feeding instructions. Note: We will ask you what you plan on feeding your pup and, yes, we will tell you if we approve. We prefer to hear that you have conducted your own research and have made a good decision based on that research.)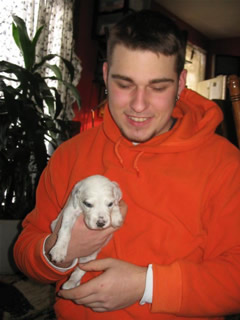 The pup will be very well-socialized in our home and introduced to just about everything (other dogs, humans, loud noises, beginning house and crate training, etc.). We do everything we can think of to provide a smooth transition for the pup from our home to yours. They will have excellent beginnings. Pups are whelped in our home and usually remain there until they go to their new homes. They receive lots of time exploring outdoors. We also feel this introduces the pups better to the outside world and makes for a much more well-rounded pup.
We insist that we are kept updated on the pup's progression and will help in every way possible with advice, training, etc. It is also absolutely essential to the future of the Llewellin Setter as a hunting breed to track the progression, health, and abilities of every pup produced here.
We also ask that if an owner's situation changes and he is no longer able—or willing—to keep the puppy, that we have first rights to take the puppy back and place it in another suitable home of our choosing. This is included in our bill-of-sale.
Please, also read our deposit/reservation and puppy choosing policy.