Laurel Mt. Llewellin Setters
Class in a bird dog is the ability to do, at great speed and with unusual accuracy, what the average can only do slowly and under particularly favourable circumstances."
The Llewellin Setter has "indomitable, enduring, hard-working properties" (to quote Edward Laverack), wonderful character and style, a great passion for bird finding and are loyal companions. Our Llewellin Setters have filled our home with fun and companionship and our freezer full of upland birds.
Having trouble viewing the video? Try it here.
All Laurel Mountain Llewellin Setters Available For Adoption
May 1st, 2019:
All Laurel Mountain Llewellin Setters are available for immediate adoption. The terms under which they will be made available are:
An "adoption fee" that will consist of a grooming fee, spay/neuter fee, vetting fee, to be paid directly to the groomer and the vet, here in West Virginia. The dogs will be adopted without registration. It would be best if arrangements were made for the dog to be picked up directly at the vet, immediately upon spay/neuter so they do not have to recover in a cement kennel. There will be no exceptions to this.
I will be compiling all of the information on the dogs available over the next week, but must be away several days. I will update this as soon as the information is ready and will make the information available to those that write with sincere interest.
This is the hardest thing I've ever had to do, but I have to do what is best for these amazing dogs. I am not able to take care of them here, in West Virginia, where Scott moved. I am severely allergic to the heat, the pollens, and even the dogs (although all was under complete control while living in the perfect climate of the Upper Peninsula of Michigan). I have been devastatingly sick since living here. I can barely care for the dogs and now that the heat has come on, I cannot do it. I litereally cry and scream in pain while trying to feed and clean the kennels. All efforts I have made to move myself and the dogs back to the Upper Peninsula have failed. I am not permitted to breed the dogs and raise litters here. So, I can't even work on providing the customers we owe puppies to, puppies. And I cannot work and take care of the dogs and my debt just gets deeper and deeper and deeper. I will start to travel to PA every weekend to try to earn a living running the photography studio, so there is noone to take care of the dogs while I am gone. Scott works and is too tired to cover me while I am gone.
I can't do this to these dogs any longer. They deserve to have all the attention they deserve. They deserve to be loved, groomed, worked, and hunted. There are no birds here. There is no where to work them here. I cannot allow them to waste away in cement kennels in this heat and not be able to give them what they deserve. My hopes and dreams for this program and these dogs cannot be realized here and I have no other options.
May God forgive me and richly bless you for helping by adopting one of these dogs and giving them all they deserve.
There are 29 dogs of all ages and, as said, I will make the information available to those that write with serious inquiries.
Sincerely and heart broken,
Michelle
Proven hunters, our Llewellin Setters are also a huge part of our family. They are truly, in our opinion, the best gun dog breed. We have hunted over many breeds and are convinced Llewellin Setters are the quintessential upland bird dog. We have seen no other breed with such style and grace, natural, inherited abilities, and such lovely personality. If you are serious about upland bird hunting, you need to get serious about the dog that accompanies you. The Llewellin Setter works tirelessly to find birds. It is what they have been bred to do.
Our goal in breeding our Llewellin Setters is first and foremost to preserve the natural hunting and pointing instinct, intelligence, class, stamina, and temperament in this truly amazing breed of dog. We do not have a large, fancy operation, in fact we have very humble facilities in the Upper Peninsula of Michigan and Pennsylvania, but their comfort, care, and happieness are our focus. All we have goes to our Llewellins. Our dogs are an extension of our family. The Llewllin Setter has become our passion, our obsession, our life.

Llewellin Setter pups, whose parents are proven excellent in the field will be made available to hunting/falconry/trialing families only. We are committed to maintaining the Llewellin Setter breed as a magnificent gun dog. And, while the Llewellin Setter also makes a great companion on the sofa—even in your bed—they are bird dogs first and foremost and need to be worked and hunted. If you do not have the time to devote to the care, attention and time afield, do not acquire one! I, personally, have not seen a Llewellin that was content not hunting.
The natural hunting instinct has been bred out of so many of the hunting breeds and are now bred for just "show" or "companion" dogs. We are committed to making sure that does not happen to the Llewellin Setter and in order to obtain a dog from us, we will ask your intentions, why you want a Llewellin setter, the amount of time you plan to devote to hunting, etc..
You might think our questions are a bit intrusive but we believe it is our responsibility to make sure these pups receive the opportunity to do what they were bred to do. There is just no sense in getting a dog that you will not be pleased with and if you try to make it something that it is not, you will not be pleased and the dog will not be happy.
We invite you to view our site and our Llewellin Setters. We know of no other breed with the intelligence, nose, biddability, class, and breathtaking beauty—not to mention their loving, loyal personality—there is no other breed that does so effortlessly what the Llewellin does--find upland birds--with such class, desire, and loyalty (in our opinion). Are you ready for the best?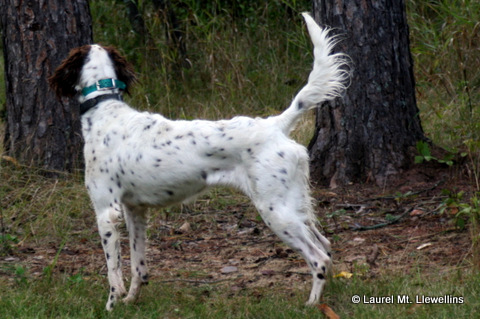 Tori